Spending an afternoon in Aldbourne's Nature Reserve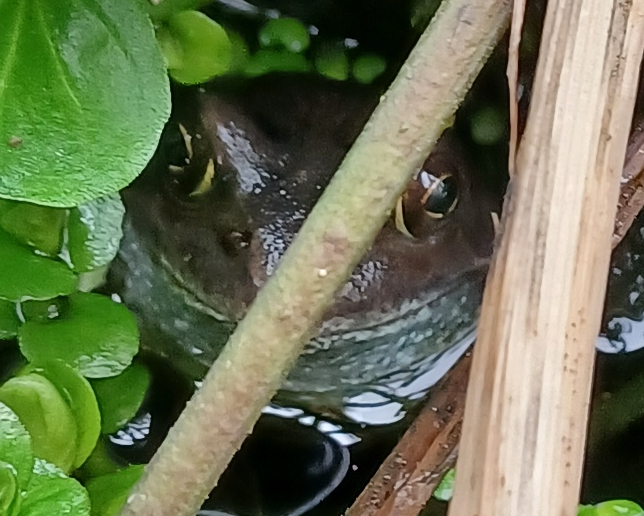 Earlier this year, we set a target to create a patchwork nature reserve in Aldbourne totalling 7000 square metres (roughly the size of a football pitch). We asked you to dedicate some (or all) of your outside space to wildlife-friendly plants, ponds and insect lodges.
We have absolutely loved receiving your entries and looking at the photos of your beautiful gardens. We are currently at 48% of our target which means we have almost 3500 square metres of space dedicated to protecting and enhancing biodiversity.
But what are these spaces actually like? Ros Oswald has created a wildlife haven in her back garden and here she shares with us her experiences of being in the space.
"I was doing some planting and weeding this afternoon when I realised it would be a good idea to take some time out to enjoy the benefits of being a small part of the Aldbourne Nature Reserve. As I reached the top of the garden near the hedge a wren made it clear that all the other birds needed to know there was a person in his garden. The great tit and chaffinch were quick to join in whilst the rooks kept up their afternoon chat.
I decided to check out the ivy which has established itself along the fence next to the honeysuckle. It was alive with bumblebees and hoverflies whilst the snails were clearly enjoying the chance to occupy the leaves. Even a pillbug appeared. As I was watching, a wasp became caught up on a spiders web towards the top of the bush.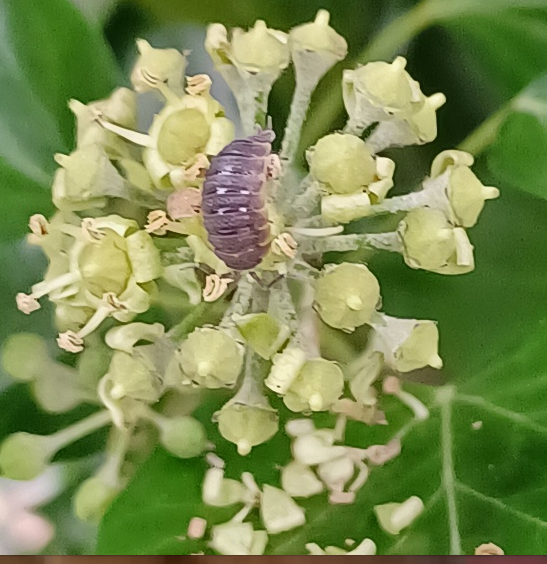 Suddenly the spider ran out from beneath a leaf and had a very close encounter with the wasp. It quickly realised that the wasp was not easy prey and disappeared as quickly as it had appeared. The wasp managed to extricate itself with some frantic wriggling.
From there I moved across to the pond. I was not expecting to see anything particularly interesting at this time of year. I could not have been more wrong. It took a while for my eyes to adjust so that I could look slowly and carefully at the vegetation in the pond. Suddenly I realised that there were two large brown and golden eyes watching me. The toad was very well camouflaged and, to my delight, co-operated as I focussed my phone camera.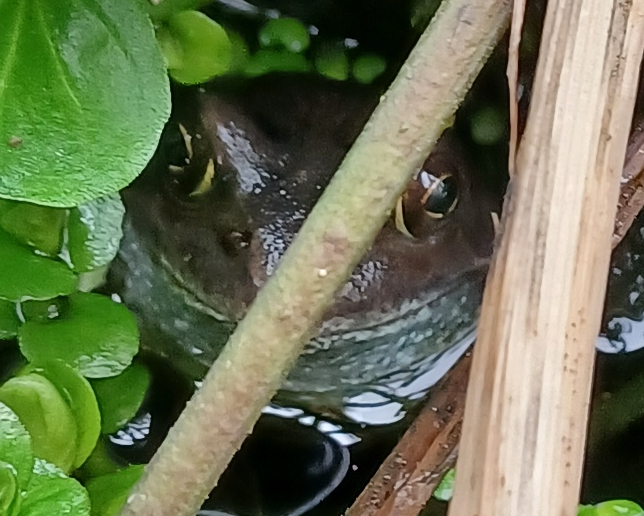 So, a simple gardening session turned into a very enjoyable wildlife encounter. As I walked back down the garden I noticed the spider had managed to trap a less dangerous adversary in his web and so his dinner was sorted."
If you would like to be a part of the Aldbourne Nature Reserve please do get in touch. Patches currently range from 1 square metre to 2000 square metres.
For more information check out the Aldbourne Nature Reserve page or visit our Blue Campaign blog for more advice on how to garden for wildlife.