Aldbourne's carbon footprint is worryingly high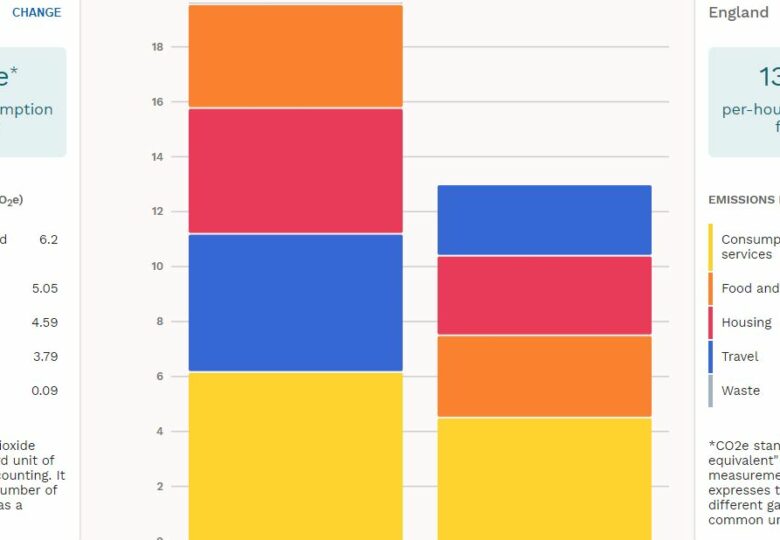 We hesitate to write this article because Carbon Neutral Aldbourne is all about being positive and focusing on what we can do rather than spreading messages of doom and gloom. But this is too important not to share…
Impact gives a visual representation of a community's carbon footprint and for Aldbourne the picture isn't pretty…
We are ABOVE the national average in ALL areas including:
!! Travel
!! Housing
!! Food and diet
!! Waste
!! Consumption of goods & services
See impact-tool.org.uk for more information.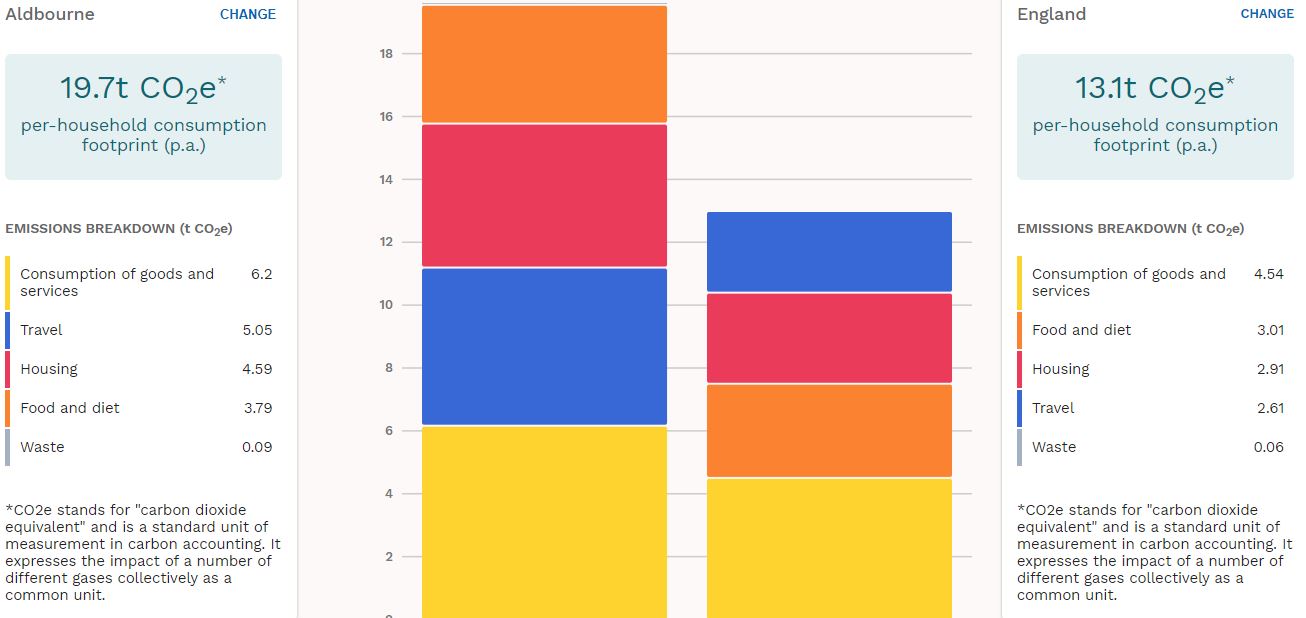 This is not good but we can do better.
There are plenty of ways to get involved in the work that we are doing to reduce our impact on the environment. Here are just a few ways to get involved:
Travel – could your next car be electric?
The EV guide on our website contains answers to some FAQs, an EV database and info about home chargers.
Housing – could you reduce your energy use?
Solar panels and heat pumps are really good ways to lower your carbon footprint and cut your energy bills. But the upfront costs are high. You could save money straight away by making sure you are not wasting energy in your home. You can also save on heating bills by making sure your house in correctly insulated.
Food and diet – could you eat more local food?
We have an amazing space in Whitley Road where we are currently creating a community garden. The plot is home to fruit trees which are part of the community orchard and we have added 6 raised beds to grow fruit, veg, herbs and flowers.
All are welcome to access the garden and help with the set up, food growing, harvesting and eating of the produce. We run regular volunteer sessions every other Saturday from 2 – 4pm.
For further information about the community garden keep an eye on our Facebook group: www.facebook.com/groups/ediblealdbournetogether
Waste – could you reduce the amount of waste that goes to landfill?
We wrote about the new Terracycle Scheme to recycle hard-to-recycle waste in the June edition of the Dabchick. To find out what can be recycled and where your nearest collection point is visit our Zero Waste page.
Consumption of goods and services – could you buy less stuff?
Has anyone else noticed how full of delivery vans the village is these days?
We are not suggesting you buy nothing (although others have successfully done this with the exception of food!) but these 3 tips could help simplify your purchasing decisions:
1) Buy less stuff.
Do you need it? Can you make do with what you already have? Can you share/borrow from a friend?
2) Buy high quality products and look after them.
3) Buy 2nd hand where possible.
These are just a few ideas to help us all to collectively reduce Aldbourne's carbon footprint. There are plenty more and we intend to try as many as possible. We would love to hear from you if you have any ideas.