Tales from the Aldbourne Nature Reserve – why gardening for wildlife is so rewarding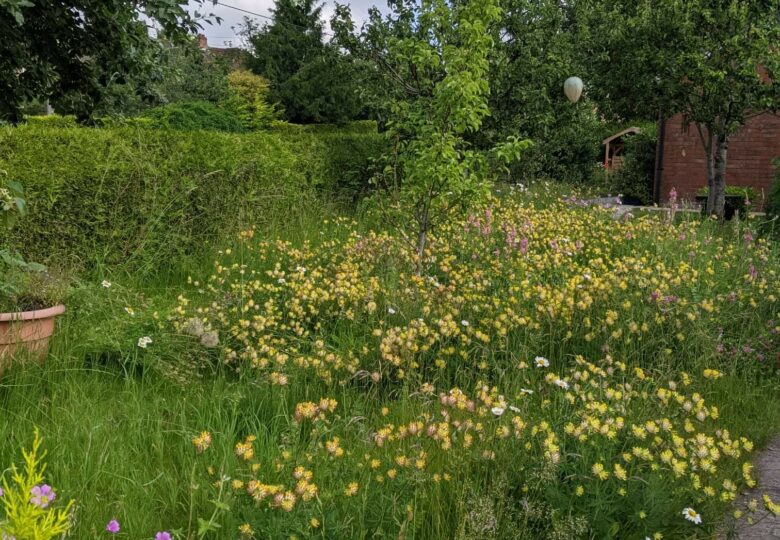 We have been blown away by the response to our village nature reserve project. We now have almost 3500 square metres around the village dedicated to wildlife. This includes wildlife-friendly plants, ponds and insect lodges.  In this blog we talk to Cathy Chinery who was one of the first people to take part in the Aldbourne Nature Reserve. Cathy's garden is a beautiful space to look at and relax in and last year she welcomed a huge number of interesting wild visitors.
Q – What made you decide you wanted to encourage wildlife in your garden?
We wanted to help the bees initially but then realised how many other insects were appearing in the garden, which then brought more birds.
Q – Why did you decide to join the Aldbourne Nature Reserve?
We thought it was a wonderful way to spread the word and see how many other people were thinking the same about the wildlife in our village.
Q –  What features are there in your wildlife area?
We have a mix of wildflowers and grasses.  We also have a small pond, which was originally a wildlife pond but now is home to some fish, adopted and rehomed from my dad's pond. 
Wildlife and fish seem to be cohabiting ok so far.  We have had to put a grid over it to stop the local heron.  We have sadly been a fast food area in the past for it.  This grid also stops any hedgehogs etc from falling in.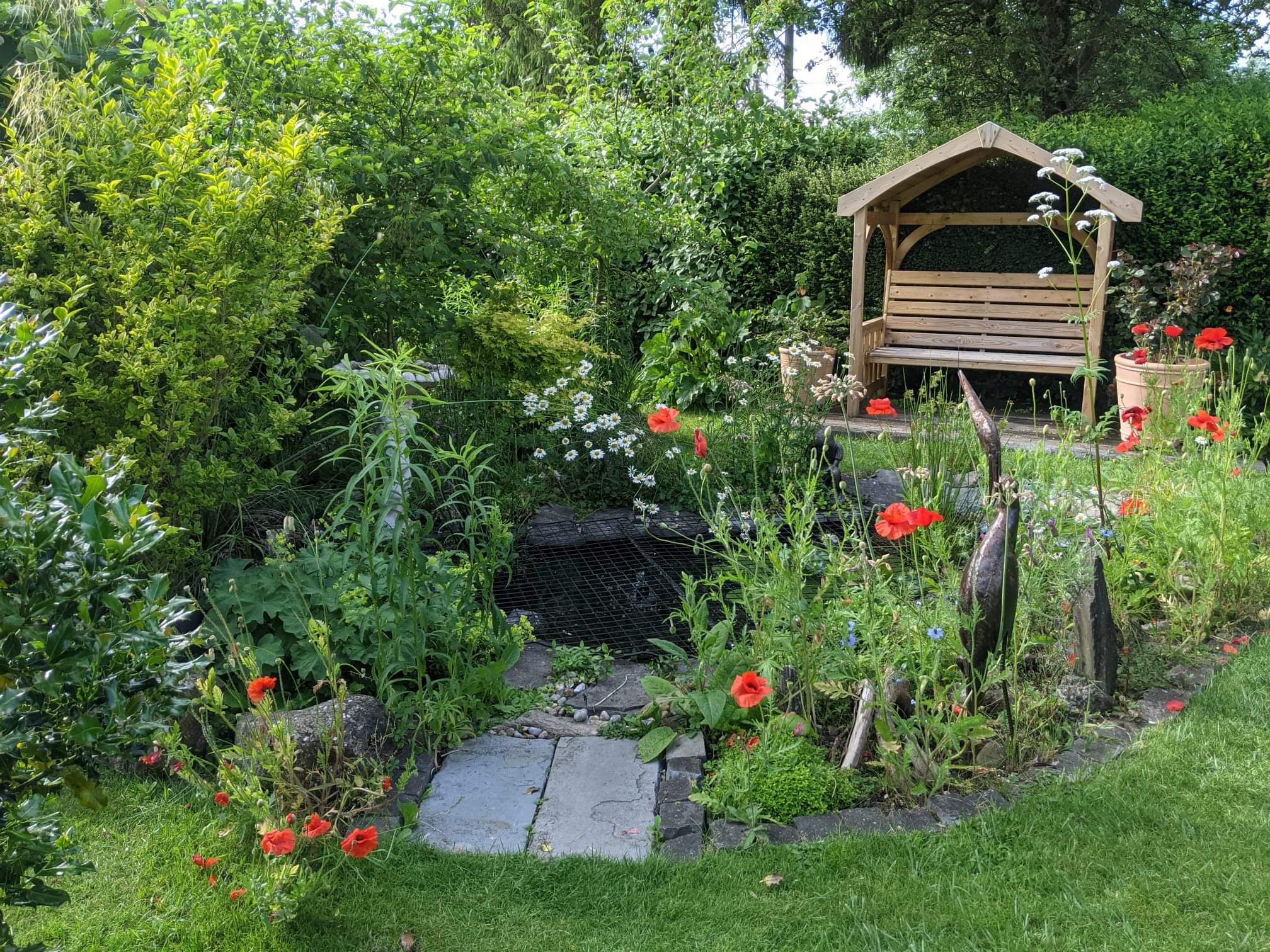 Q – What wildlife do you see regularly in your garden?

We see sparrows, tits, pigeons (of course), rooks, blackbirds, thrushes, wren and various other birds I have yet to recognise.
We have been visited by dragonflies, damselflies, bees, hoverflies, butterflies, moths, wasps, spiders of all sizes!
We also have had burrowing bees near the pond area too.
We have had an assortment of wildflowers and grasses.  Poppies, Yellow Rattle, an Orchid or two, Wild Geraniums.  We purchased seeds online which were recommended for chalk areas.  These seem to have been very successful and we were delighted as we past by, enroute to our wheelie bins, at all the flowers and grasses as they emerged.
We have newts, snails and frogs in the pond and the frogs/toads seem to love living in our wood pile by the pond.  This is old branches and larger prunings, some from my dad's grape vine, that we have grouped together to make a small loggery area.  This area is also lived in by woodlice (which we call chikky pigs).
We have also seen, for the first time, slow worms in the garden.  So exciting.
We have noticed though that there were less May Bugs this year?  Possibly the weather?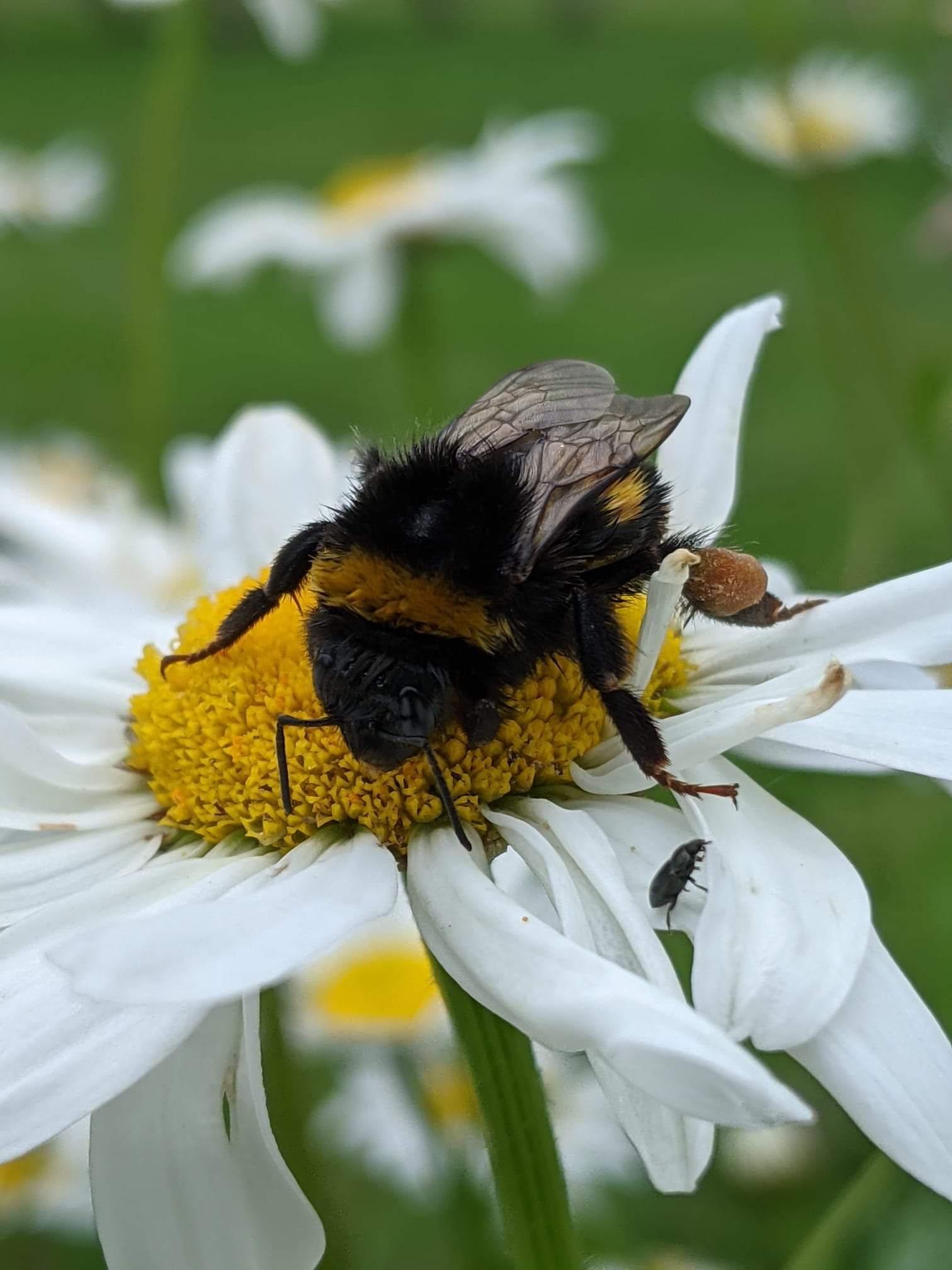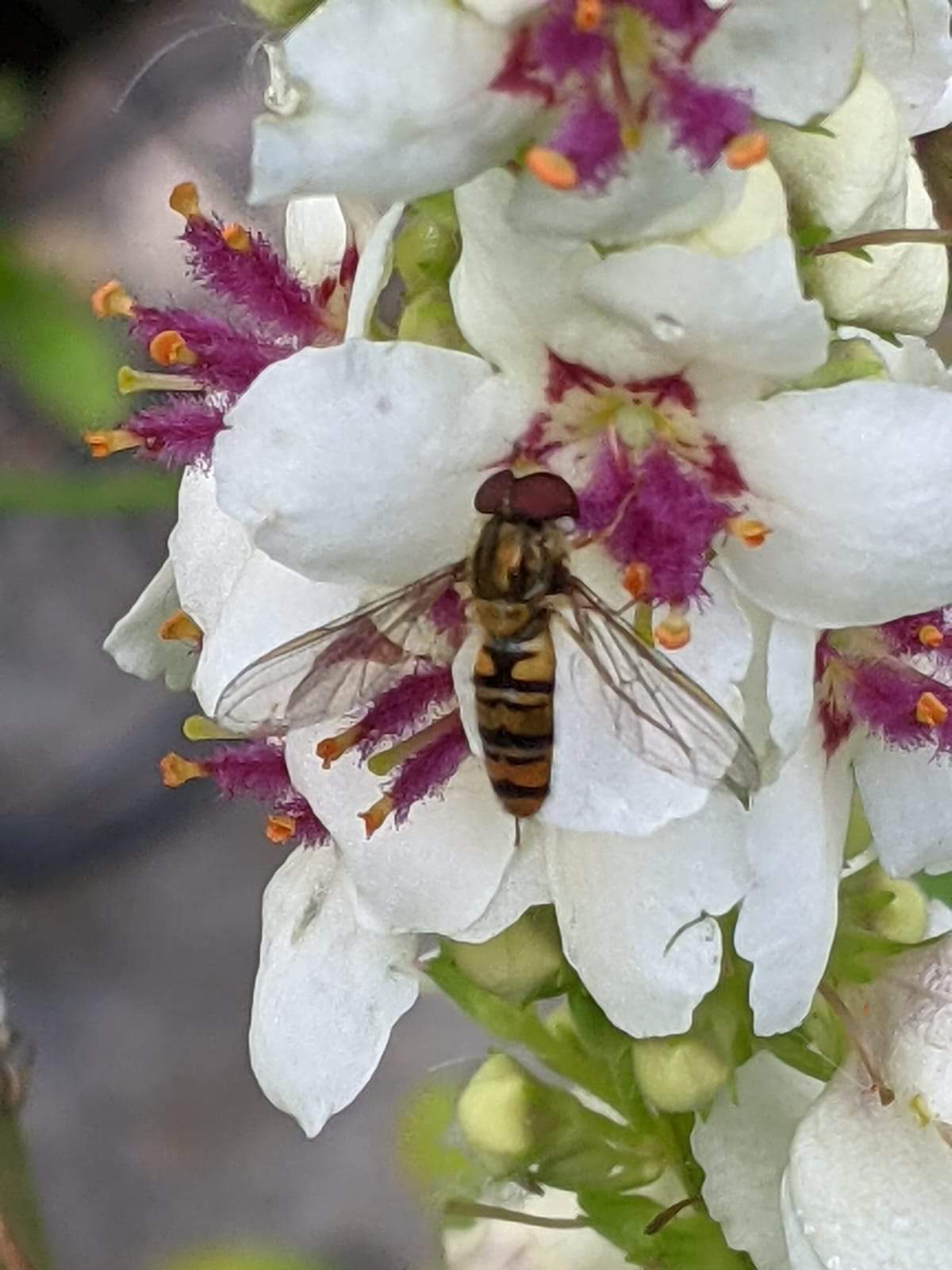 Q – Have you noticed any differences since you planted the wildflower mix?
Our trips to our wheelie bins are filled with flowers and insects.  We have seen more bees, butterflies and hoverflies.  We think we have noticed more bats when we are out stargazing and definitely more birds in the garden.  It has also become a more social place, when people pass by and say how lovely it is and during the early days of the pandemic we were talking to a family whose child was doing a wildlife project for school.  We invited them into the garden so the child could sketch and record the wildlife………. socially distanced, of course. 
Maybe, in the future, our reserves could be open to school groups to do the same if they so wished.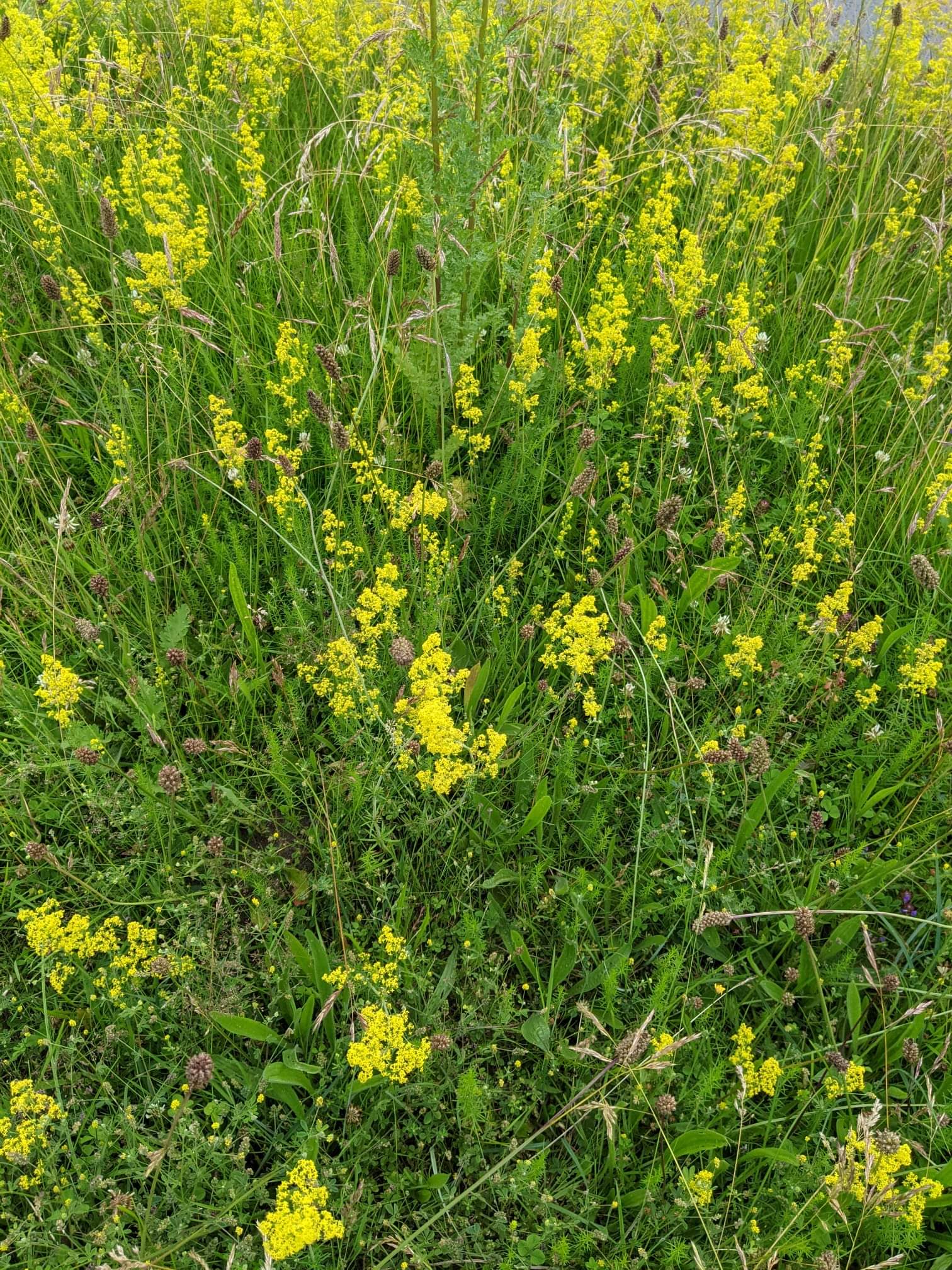 Q – Are you planning to extend or reduce the wildlife area, if so why?
I plan to again add patio pots of wildflowers next year.  These not only boost areas for insect preservation but add colour to areas of the garden that might not normally have any, for example, a shady corner etc.  Patio pots can also make wonderful bog gardens, if kept well watered and of course, make wonderful little wetland pond areas etc.
Q – What have you enjoyed most about your wildlife area?
We have loved absolutely everything.  As mentioned above; the flowers, grasses, insects, birds, animals.  We have enjoyed talking to people passing by about the joys of having this area, including the need to maintain it.  Dispelling any fears we have just let the garden go unkempt.
Q – What have you disliked about having a wildlife area (if anything)?
Nothing at all.  It has enhanced our garden, helped wildlife – both flora and fauna, and helped our mental health, especially during Lockdown.
Q – What would you say to anyone thinking of creating a wildlife area in their garden?
Just do it.  You don't need a vast space.  Any patio pot, container can become a wildflower home.  Just look where poppies grow, in ground that is stony and wild.  Look where buddleias grow, in brick walls and little violets pop up all over the place.  Just try.
Q – Has anyone else commented to you about the wildlife area in your garden?
Yes, we have had quite a few people tell us they like it and it is lovely.  Even one person who likes a traditional garden has commented how good it was for the insects.
Q – Has anyone else started a wildlife area as a result?
We are not sure, but hopefully.
Q – Have you got any top tips on plants/other garden features that work well in Aldbourne and attract lots of wildlife?
Take care to research your garden.  What sort of soil it has, is it shady or sunny etc.  You will not win against Mother Nature if planting in the ground.  We researched and purchased seeds for chalky soil.  The seeds you plant for your garden may not be the ones that initially spring to mind but over the years less grass and more flowers will emerge.  Like any gardening project, we garden for the future.  This is where container planting comes in too.  You can plant any wildflower seeds in them using the correct compost etc. You are not restricted to what the soil in your garden is then.
Our main tip is to do your research but also be aware that a wildflower reserve does need a little general maintenance.  It is self sustaining but does need cut back and maintenance.  For example, cutting in the autumn, leaving the cuttings on the area for a few days for seeds and insects to escape but remember to clear the cuttings away after a few days to help stop nitrogen going back into the soil which will encourage common grass.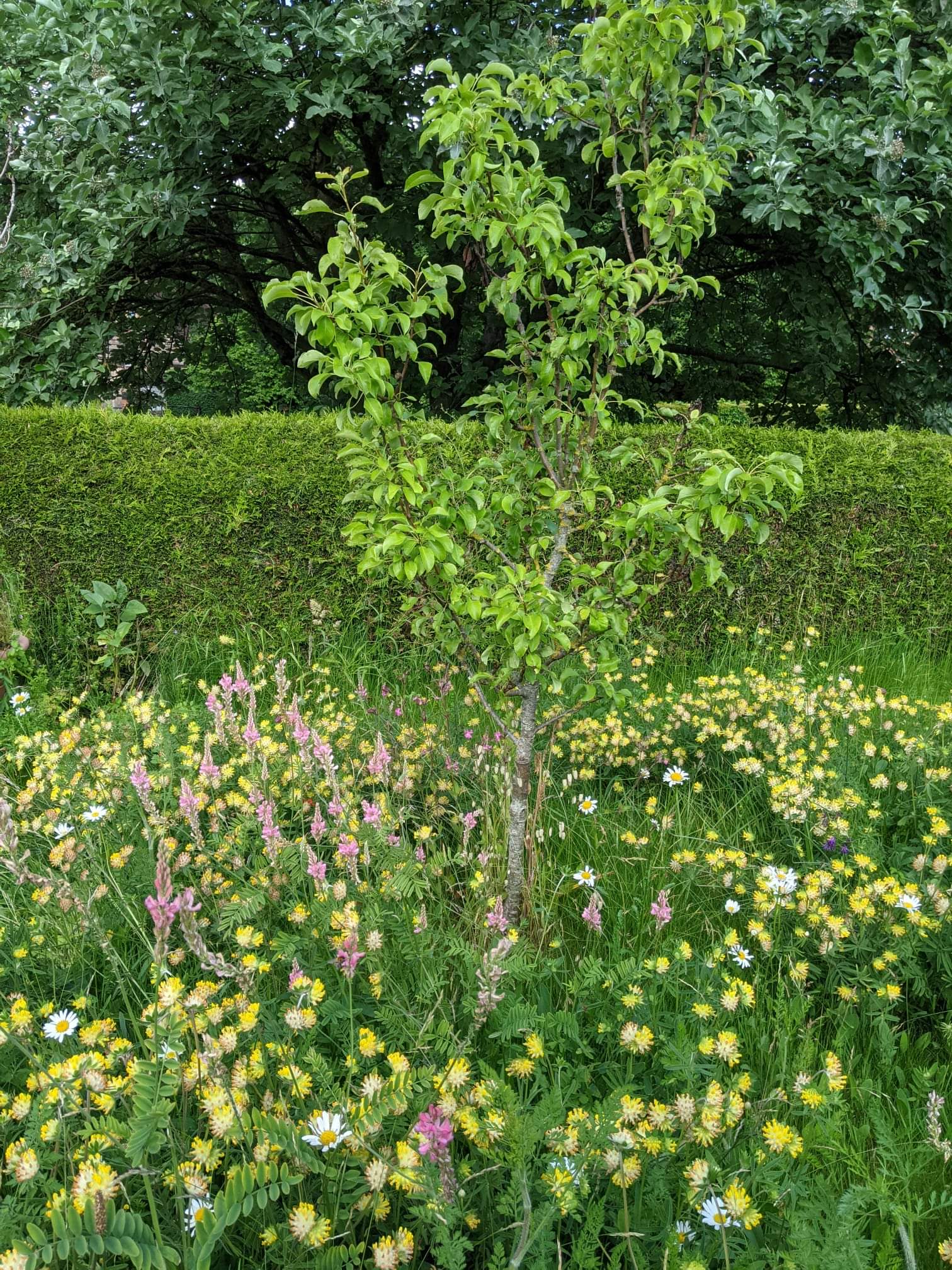 Thank you so much to Cathy for sharing her experiences with us (and the beautiful photos!). Has Cathy persuaded you to start a nature reserve in your garden?
For further info on Aldbourne Nature Reserve visit our nature reserve page.