What happens to old IT equipment?
Carbon Neutral Aldbourne finds out all about WEEE waste and what to do with unwanted IT equipment from Simon at Green Machine Computers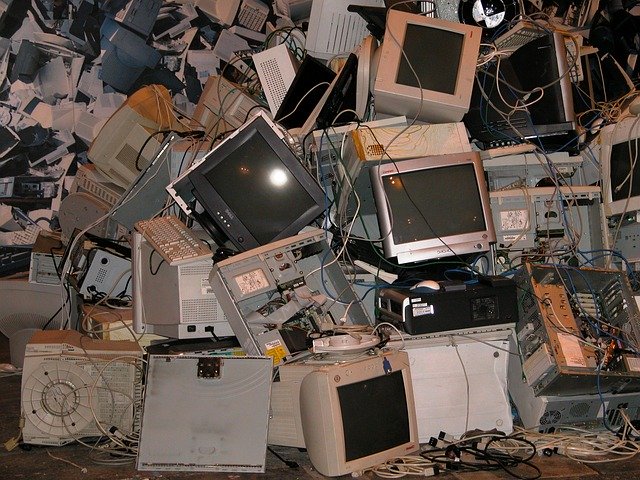 For the last 8 years local business, Green Machine Computers, has been working hard to help our planet. They recycle tonnes of IT WEEE (Waste Electrical and Electronic Equipment) each month, diverting it away from landfill. The company also provides much-needed apprenticeships, training and employment.
Carbon Neutral Aldbourne spoke to Green Machine's Managing Director, Simon Crisp, to find out more about WEEE waste and what they are doing to try to combat it.
What does Green Machine Computers do?
We aim to collect as much unwanted IT equipment as possible from businesses and organisations across the UK, refurbishing it for reuse, adding years to its usability and lifecycle and recycling reusable materials. We focus on repairing laptops, desktop computers and servers, training people to fix this equipment and enabling them to get qualifications by doing so.
Why is WEEE Waste such a huge environmental problem?
It is a scary fact that electronic waste (WEEE waste) is currently the fastest growing waste stream. 5 years ago the world disposed of around 20 million tonnes of electronic waste in a year. Last year the world produced another 50 million tonnes of it.
We live in a throwaway society where many of us replace mobile phones annually and laptops and other IT equipment every other year. Currently, only 12.5% of this WEEE waste is recycled. This means over 40 million tonnes ends up in landfill annually. This causes pollution but it also means the loss of scarce materials and a waste of value.
A lot of what is labelled as WEEE waste is not "waste" at all, but whole pieces of electronic equipment or parts which are readily marketable for reuse or alternatively, IT equipment which can easily be recycled for materials recovery.
On average, every 273 laptops that we recycle saves the energy equivalent of running one home for a year – so on a global scale recycling one million laptops could save the energy equivalent of running over 3,660 homes in a year!
How else does recycling WEEE waste help the environment?
Incredibly, making one new desktop computer and monitor uses over 240kgs of fossil fuel, 21kgs of chemicals (including rare non-renewable elements), and 1.5 tonnes of fresh water. This equates to just one household computer consuming resources equivalent in weight to a family car.
So, every device which Green Machine Computers refurbishes and passes on for reuse, or recycles, saves the environment a huge amount of energy, materials and pollution.
Tell us about how you support people as well as the environment
Green Machine Computers redistributes much of the IT equipment collected by either donating it to charities or local organisations or by selling it on at preferential rates and using the proceeds to fund in-house apprenticeships, training and education.
Many of our volunteers and employees approach us directly or are referred through local schools, colleges or charities providing work experience or career transition programs. Many of our staff have faced challenges and are often in need of extra support to be able to return to mainstream work. To enable this we put them through apprenticeships in business administration, office management and computer technician roles.
We offer apprenticeships and work placements for people of all ages; so far our youngest has been 16 and oldest 48. We also offer work experience to students from local schools.
We regularly host volunteers, some of whom are accompanied by their carers for a day, building up to week-long visits or longer in order to get back to regular working, or just to experience work in an office environment.
We offer work placements for ex-military personnel through the MOD-sponsored Careers Transition Program.
What do you do to help other local organisations?
We help local charities with donations of laptops and other IT equipment. We also support local schools by donating stationery from large office clearances.
We offer the cost saving alternative of refurbished computers to small businesses and charities, saving them hundreds of pounds compared with buying new equipment.
We assist local clubs with technical support and IT equipment where necessary.
So what should we do with our unwanted IT equipment?
Green Machine Computers is always on the lookout for any surplus or redundant IT equipment you may have which is taking up valuable space in your offices, storerooms, classrooms, containers, cupboards and warehouses.
Items we collect include computers, laptops, servers, monitors (screens), tablets, mobile phones, printers, scanners, cables, keyboards, mice, desktop phones, network switches, routers, games consoles and cameras.
How can we get in touch?
Call us on 01672 520 133 or email sales@greenmachinecomputers.com to arrange a collection, or alternatively drop it into us at 6 Whittonditch Works, Ramsbury, Wiltshire, SN8 2XB
All the IT equipment we collect is audited, data wiped, repaired and refurbished to a high standard.
We hold certification with the Environment Agency and Microsoft, and we have accreditation with ISO 9001 Quality Management and ISO 14001 Environmental Services.